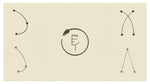 Something simply doesn't fit.
Elegance is not always black and style not always uncomfortable.
There is an imbalance in the way clothes are constructed. An inner harmony disrupted. A centre that lies askew. Starting from a study of human anatomy and with an attention to movement and natural materials and colours we developed designs that fit body shapes and allow for movement. Oscarlino Rei creates a new constellation of construction points for a design that fulfils both aesthetics and functionality, and works with nature, not against it. 
Rei
Evolution lies in the details. 
Out of Fashion. Lights are on.